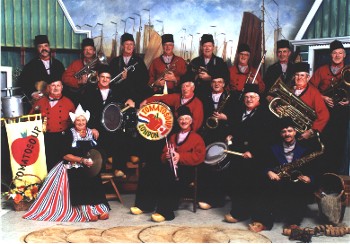 This year marks the 25th anniversary of the TOMATOSOUP BAND. It was formed in 1992 by a few members of the Dutch-Canadian Society in London, Ontario who wanted to celebrate the upcoming Carnival (Mardi Gras) season in a style they knew well.In the southern provinces of the Netherlands, in the days that precede the beginning of Lent, roving bands of amateur musicians walk from tavern to tavern with partying revellers in their wake. From the original five, TOMATOSOUP has grown to include twenty enthusiastic musicians who perform throughout the year. The Band's unique style and happy and spirited repertoire contributes to the multicultural richness of Canada.

TOMATOSOUP members take pride in being unofficial good-will ambassadors for the Dutch-Canadian community and for the City of London. In their distinctively painted bus ("The Soup Can"), theTOMATOSOUP BAND travels throughout Ontario to play in parades, fairs and festivals. They have entertained seniors in Nursing and Retirement Homes, young patients in the Children's Hospital, and veterans in Legion Halls. They have appeared in other provinces, in the United States, in Belgium, and of course, in the Netherlands Wherever the Band has performed, they are inevitably invited back.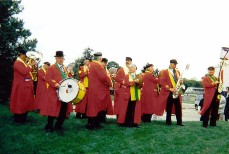 TOMATOSOUP members enjoy themselves thoroughly. Their smiles, enthusiasm and spontaneity are contagious. It is not surprising, therefore, that they have been invited to play at significant events such as the Lieutenant Governor's New Years Levy, the International Plowing Match, the K-W Octoberfest parade, at several national conventions, VE Day Anniversary Celebrations in New Brunswick and as the opening act for the RCMP Musical Ride.
We look forward to meeting you at one of our upcoming events and ask you to help us celebrate the 150th Anniversary of Canada's Confederation, the 100th Anniversary of the Battle of Vimy Ridge, the 100th Anniversary of the NHL, the 72nd Anniversary of the Liberation of Holland and, of course, the 25th anniverary of the Tomatosoup Band!